Warning
: array_unique() expects parameter 1 to be array, null given in
/home/content/79/7902479/html/blog/wp-content/plugins/knowledgering-post-popularity-graph-tool/knowledgeringppgt-functions.php
on line
24
Warning
: max(): When only one parameter is given, it must be an array in
/home/content/79/7902479/html/blog/wp-content/plugins/knowledgering-post-popularity-graph-tool/knowledgeringppgt-functions.php
on line
25
Many App developers are cashing in on the release of the new iOS 7. A few visionary app development trail blazers are showing us in practice how it can be done.
After a long period of worldwide anticipation, Apple has finally launched its latest iOS 7 software platform, causing a huge number of users to update their systems. There is little doubt such a move will once more prove profitable for the Cupertino-based tech giant, but smaller app design studios and individual developers have a lot of reasons to be happy with such an outcome, too. New interface that comes with iOS 7 offers a wide range of new possibilities to completely re-think countless of successful applications and create additional market for advanced mobile development skills. All around the web, some of the most popular iOS apps are experiencing significant overhauls and innovations, with practically the entire app universe undergoing a period of change. Of course, that also means developers have a whole new level to think about and work with, enabling some of them to strike it rich thanks to the platform upgrade. Here are some of the strategies smart app developers are using to their advantage:
Taking Initiative And Striking Early
Rather than waiting to see how the new release would affect user preferences, some development companies are taking the bull by the horns and launching new versions of their popular products just as hordes of users are switching to iOS 7. For example, RealMac Software was thinking proactively and has already put new version of Clear on the market, bringing the popular task list manager to the iPad with its new universal app capable of syncing with iPhone. As a reward, they will collect a fee for each download of this paid app, boosting company profits for this year substantially.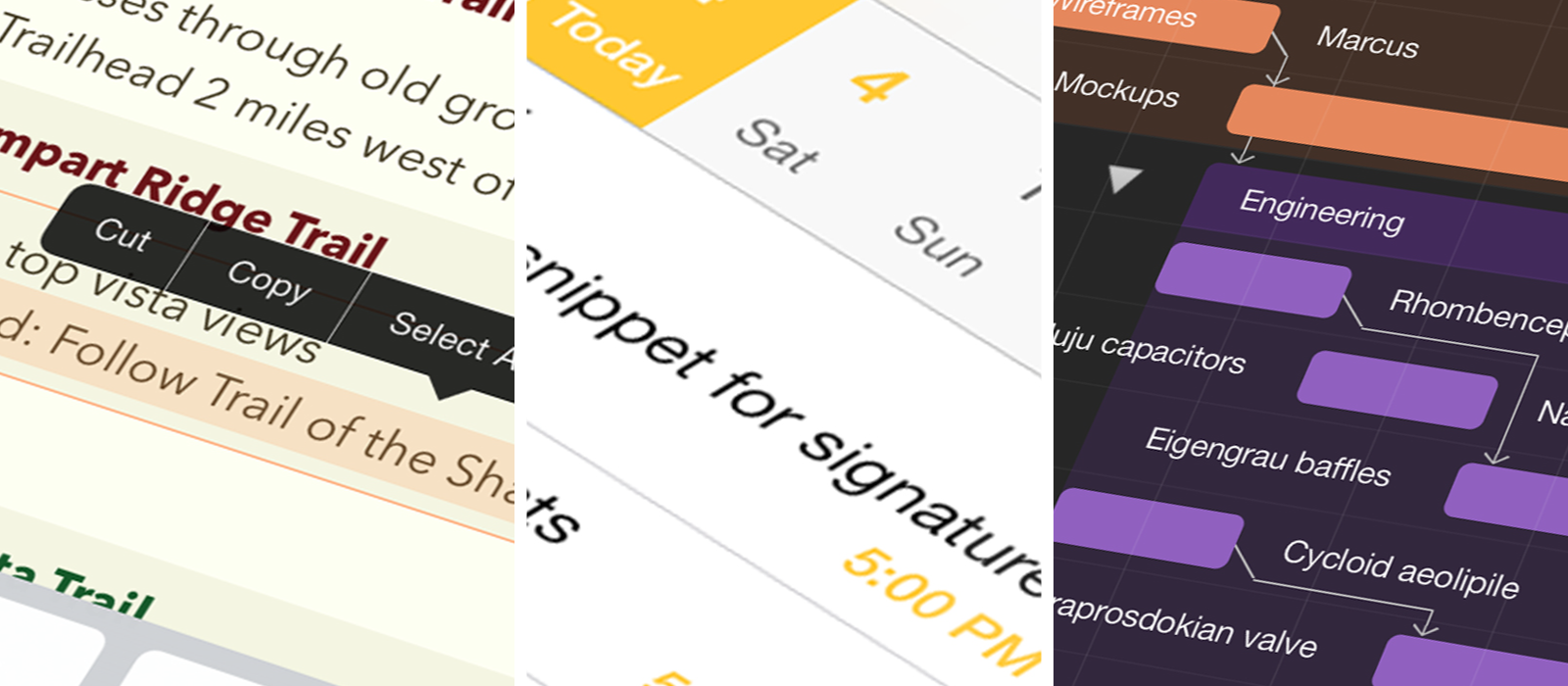 It appears that OmniGroup was advancing along similar lines, as they scheduled the unveiling of their new OmniFocus 2 task management tool to coincide with the official release date for iOS 7, seizing the opportunity to capitalize on the media hype and general attention of the users that always follow a new OS from Apple. In this day and age, development companies must be extra aggressive if they want to grow and prosper – being faster than the competition is one of the surest ways to secure a good pole position and ultimately win the race.
Riding A Proven Winner
If users were willing to pay for an app in the first place, chances are they believe that app is worth having and they will spare no expense to make it even better. That's why it is hard to argue that well-timed appearance of Reeder 2 in the App Store is anything but a shrewd and bold business move by its author Silvio Rizzi. As one of the best iOS apps for management of multiple RSS feeds, Reeder already has a legion of fans that are itching to find out what the new version looks like. If at least some of them end up purchasing the app for $4.99, the developer could strike a gold mine with a simple re-design of the app to take advantage of iOS 7 features.
Calendars 5 was created with similar hopes in mind, as the latest tweak of the well-known smart calendar app wagers that fine-tuning of the user experience will be enough to motivate existing and new users to pick up the new version along with their iOS 7 updates. It takes a lot of hard work and luck to be in the situation to milk the golden product even further, but developers that have such an option would be wise to consider it, if nothing else.
New Design To Drive Sales
Sometimes even great apps can have a difficult time standing out in a crowd and fresh interface design can be the factor that tips the scales and kick-starts the number of downloads. That's why it could be a good idea to re-define the product when the opportunity arises, and what occasion could be better than iOS 7 arrival? Product design team at Edovia Inc. did just that and the result is Screens 3, a product optimized to make the most out of the new OS while impressing with good looks. It remains to be seen whether the users will be able to recognize the value of this powerful screen sharing app and purchase it in large numbers, but the effort certainly bears the highest compliments. Design is becoming a major battleground and even the frontrunners can't afford to sit idle, as evidenced by the fact that 2013 Apple Design Award Winner, task management app Finish, has been redesigned in order to fit the general look and feel of iOS 7, while retaining much of its original charm and balance. There is a lesson to be learned here and developers looking to make a big break in the market should definitely use interface design as one of their secret weapons.
Taking Off Together With iOS 7
While there are many benefits enjoyed by the market leaders, smaller development companies just arriving on the scene can focus their full attention to the latest tools and make their products more natural on the new platform. Perfect Weather from new development firm Contrast provides a great success story in this respect, as this app was just recently developed for iOS 6 in anticipation of the platform update, which allowed it to build on the strengths of iOS 7 to correct some of the issues commonly plaguing weather apps. The formula is working – Perfect Weather already has some dedicated supporters among the opinion makers within the Apple community, but it might still be too early to estimate how this kind of popular buzz will translate into sales. As developers are getting more familiar with the new OS, it is logical to expect an influx of other smart apps that are actually built for the platform and not adapted from the older one, which could lead to more elegant and more effective interfaces in the near future – not to mention nice profits for the early adopters.
Still More To Come…
It doesn't come as a surprise that some app designers were savvy enough to prepare for this moment, but we should keep in mind that iOS 7 has just been finished. Of course, it could be true that the golden moment for a big breakthrough has come and gone, but opportunities for app developers to make some extra cash on updates and re-designs are not going to vanish any time soon. If anything, it makes sense to expect a flurry of copycat business plans that basically replicate one of the successful strategies utilized by the companies willing to take the risk now. Since the first reports regarding percentage of users updating to iOS 7 immediately after it became available are overwhelmingly positive, the stage is set for capable app developers to make their skills more marketable than ever before. The global network of Apple mobile users is rapidly growing and profoundly maturing with the new generation of hardware and software, which makes long term financial prospects developers face extremely bright even in the face of stiff competition in the market. The big money is out there – the only question is who will be smart and fast enough to pick it up before the others do.
Post Popularity 100%
Popularity Breakdown
Comments 100%